SPECIALITY BLASTERS

Airless Blasters

Airless Blast
Airless Blast
Solutions for the Industrial and Automotive Industries
The RB2002 Rim blaster has been updated into a robust, hard-working modern cleaning machine! With the twin overhead 20 hp direct drive center fed blast wheels, we have the power to clean the worst rusty, painted, or powder-coated steel truck wheels. Also, see Blast Rooms.
This thing is a beast that will get most wheels clean in less than four minutes!
Our engineers have added an air wash to help keep the blast media clean. A unique rubber roll-up door is now quick, safe, and keeps the shot in the blaster. The door has double hand controls for even more safety, along with our standard E stop. There are wear-resistant replaceable plates throughout the already tough Manganese alloy cabinet. All the roller shaft bearings are protected from intrusion by blast media.
Available options include:
1. Pneumatic rim lift (can be either right or left side lift)
2. VFD variable speed drives to allow the blast motors to be slowed down for delicate metal.
3. A hoist with a mono-rail beam to carry wheels to and from the blaster.
4. Fresh air vents that allow air to flow thru the cabinet for complete dust removal.
Each blaster comes with a dust collector matched to the blaster for highly efficient dust removal.
Automobile Cleaning & Surface Preparation
MB2000 Blaster
Metal Finishing
Cleaning
Deburring
Polishing
Buffing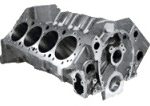 Block and head
Alternator and starter housings
Water pump housings
CVs, valves, connecting rods
Machined metal parts
A popular tool for automotive and industrial cleaning. Clean grease and grime, de-burr, and polish parts quickly,quietly and efficiently.
How do they work?
Structural Blasters
Structural steel moves over the conveyor as blasting media is propelled at a controlled, continuous rate set for a desired cleaning standard.
MB2000 Airless Blaster
airless blasterThe MB2000 is small, compact and powerful. It quickly cleans parts to a bright metal finish and cuts cleaning costs dramatically. Parts are loaded into the blaster basket, the door is closed and the cleaning cycle timer is set to the desired time. After the cleaning cycle is complete, clean parts are removed from the basket and another load of dirty parts is placed in the basket.
About Norton Sandblasting Equipment
Norton Sandblasting Equipment is a premier stocking distributor for the leading manufacturers of surface preparation, dust collection and industrial vacuum equipment and product lines. We are also leaders in the industry for newer technologies such as: Sponge Blasting, Automation, Robotics and Laser Ablation technologies.
Be sure to follow us on Facebook.