RPB® Nova 3™ Blast Helmets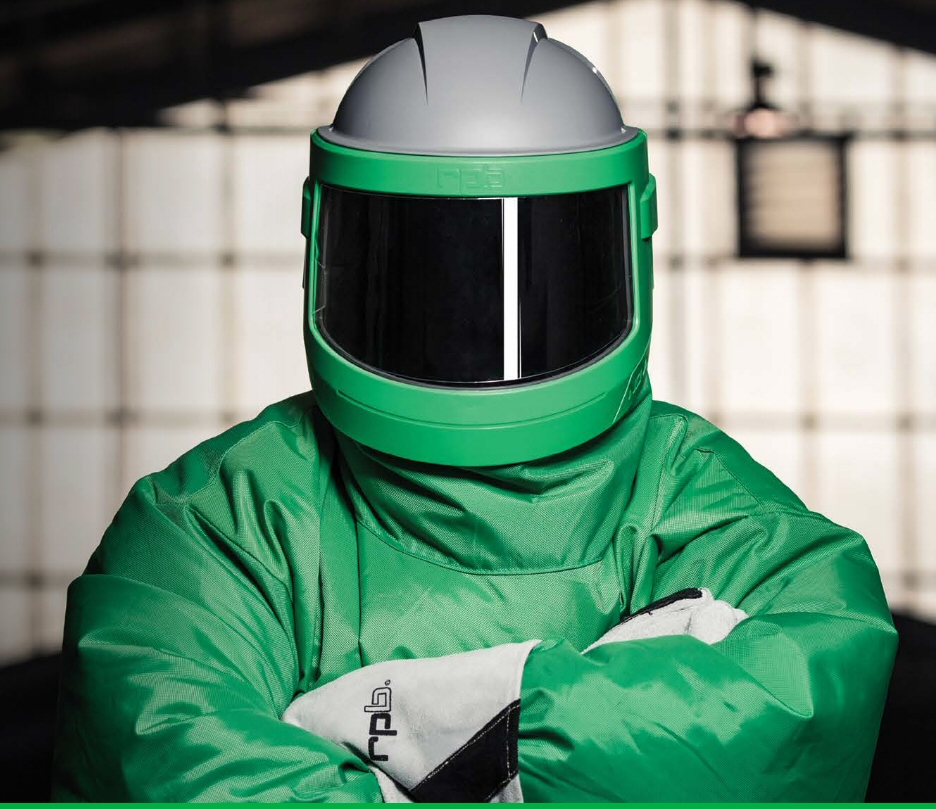 RPB  NOVA 3 RESPIRATOR
Unrivalled comfort
The RPB Nova 3 revolutionizes the abrasive blasting experience with the world's most comfortable blasting respirator. With breakthrough technology and comfort, the Nova 3 has been designed around the operator's needs to advance their safety and productivity.
Visibility has been at the forefront of the Nova 3 design process.
With the unique cassette lens system, you can experience an optically clear field of view at all times. The superior operating window optimizes peripheral vision and allows for 30% more downward vision than other respirators on the market.
The ratchet padding system provides a customizable fit and molded side pads absorb sound, protecting against hearing loss.
Its unique helmet design distributes weight evenly across your head and shoulders, keeping the center of gravity low, eliminating top heaviness, and relieving you from aches and strains on your neck.


What Norton Sandblasting Equipment Likes About the RPB® Nova 3™ Blast Hood:
It is made with a heat/cold resistant nylon that is strong, durable and high quality.
Changing lens covers could not be easier… we can change them without removing our gloves.
There is a folded tab on the tear off lens to ensure pulling off one lens at a time.
The design of the cape seal and lens cover protect from blast media collecting and dumping on the user when you open the lens or remove the cape.
Parts are easy to remove, replace and clean! One hex key tool is all you need for any field replacement and it is included… neatly tucked into the helmet for storage. Nuts are press fit so you don't have to hold the other side with a wrench.
All parts are labeled with the part number so you can easily identify what replacement part you need to order from Norton Sandblasting Equipment.
The breathing tube can only connect one way with the O-ring seal, so you won't put it on backwards.
The removable lining has an indention for your ears and comes in 3 sizes: small, medium and large- medium comes standard and you don't need special padding if you wear glasses.
The neck pad has a ratcheting adjustment so you can align the balance of weight distribution for custom comfort.
It comes with a 28″ standard cape but 38″ capes, leather capes, and Blast Jackets can also be purchased.
Meets NIOSH standards for Type 1 Class C Respirator hood.
It is made in the USA!
SAFETY ABOVE ALL ELSE
Rigorous safety standards not only protect valued workers, they also maximize efficiency, and maintain companies' hard-earned reputations as suppliers and employers. RPB® tested the Nova 3® using all conventional safety testing. Meets standards worldwide, including NIOSH, ANSI Z87.1 – 2010+, ANSI Z89.1 – 2012 Type 1 Class C. Then they parked a large sports utility vehicle on top of it. It's that uncompromising approach that characterizes RPB®'s design and the high standards and ethics they set in everything they do. Because jobs and lives depend on their products; RPB® make certain they won't let anyone down.
COMFORTABLE KIT – CLEAR THINKING
The RPB® Nova 3's design and engineering distributes the helmet's weight evenly across the head and shoulders for optimum comfort, practicality, and ease of worker movement, reducing fatigue. In addition, a ratchet-adjusted neck pad ensures your head is supported.
The ingenious, fully adjustable, internal "Clever Fit Padding" (patent pending) allows helmets to be individually customized. This avoids discomfort and irritation, giving workers a clear head even under the pressures of their work. The padding has a second, vital, purpose. It's positioned to help absorb sound within the helmet, protecting workers' hearing. Padding is easily removed, and fully machine washable, making helmets hygienic and pleasant to wear even in the most extreme temperatures.
Design Features
Streamlined air flow directs air to the breathe zone and prevents fogging of the lens
Tough helmet shell, manufactured from engineering grade nylon
Large visor window provides optimum downward and peripheral vision
Large latch that is easy to locate and use even when wearing gloves
Bellow seal creates a complete barrier against dust and particulates
Cape seal prevents abrasives and dust from entering the helmet
Choose from six cape options: Leather cape (standard length or extra long), nylon cape (standard length or extra long), and blast jacket (XL or XXL).
Compatible with supplied air
Comfort Features
Adjustable padding to fit with the ratchet and molded side pads
Close-fitting padding ensures the helmet fits snugly and moves with your head
All padding is machine washable for hygiene purposes
Productivity Features
All parts are field replaceable using the allen key that sits neatly inside the padding
Compatible with our unique cassette lens system
Fast inner lens replacement
Removable visor for efficient lens replacement
Accessories